KATIE FIELDING, EDUCATOR/ASSISTANT GUIDE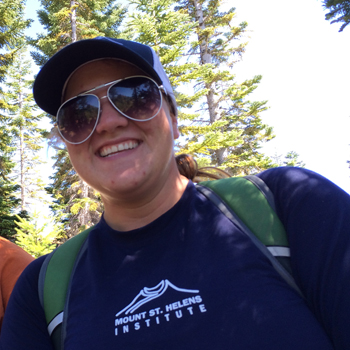 Katie grew up on a small farm in Camas, WA which allowed her to become well acquainted with the natural landscape. She began her educator career early; in middle school she took farm animals to the school in north Portland where her mother worked. This experience helped her understand how unique and valuable her upbringing was and sparked her passion for environmental education.
Katie attended Portland State University and received a Bachelor of Science in Biology. Her course work focused on ecology and she participated in undergraduate research examining morphologic variation in Rhagoletis fruit flies.
Katie still lives on her family farm and helps her mother raise sheep. She enjoys a variety of outdoor activities including gardening, fishing, exploring and most of all riding her dirt bike.
Katie is passionate about providing others with opportunities to connect to nature. She has worked with the education programs at Ridgefield National Wildlife Refuge and CASEE. Katie was an education intern last summer and fell in love with Mount St. Helens and the wonderful programs that MSHI offers. She is excited to join the MSHI team for another season to see lives changed by this amazing landscape!