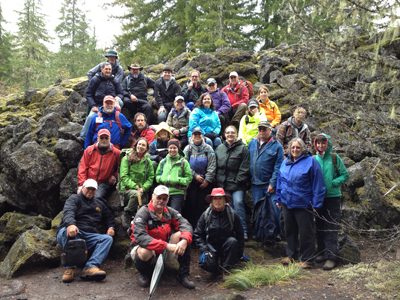 VOLCANO NATURALIST PROGRAM
The Volcano Naturalist Program (VNP) is an adult, community-based natural resource education and volunteer program serving Mount St. Helens and the greater Southwest Washington and Portland Metro areas.
A joint education partnership between the Mount St. Helens Institute and the Mount St. Helens National Volcanic Monument staff, the Volcano Naturalist Program includes a requirement for participants to commit to a minimum of 60 volunteer hours through a variety of opportunities.
2014 Volcano Naturalist testimonial
"It covered a wide range of subject matter. I learned a lot and realized I need to learn so much more. The never-ending subject matter of changes in the ecology of the mountain is golden. The lessons in the history of past and present are extremely valuable. Passionate presenters and staff help fuel the interest to learn more and show up for class. I feel lucky to be a part of such an engaging group of folks. Thank you for the offering the program. Looking forward to the adventures on Loowit ahead."
WHAT IS A VOLCANO NATURALIST?
Volcano Naturalists undergo training specific to Mount St. Helens and seek to engage visitors in the understanding and stewardship of nature through science-based education and volunteer community service. This includes understanding the geology, ecology, specific inhabitants (birds, plants, mammals, etc.), and the impacts of humans on the landscape. During the program, participants study the fundamentals of Mount St. Helens geology and biology. They develop field identification and other naturalist skills at 11 evening classes and four weekend days in the field at various locations around the monument. The inclusion of high-quality interpretation skills help graduates tell the intriguing story of Mount St. Helens.
WHAT DO VOLCANO NATURALISTS DO?
Individuals who participate in the program bring diverse skills and experiences that, combined with their new-found knowledge and interpretation skills, create a connection for visitors to the volcanic landscape. After training, Volcano Naturalists may participate in different types of volunteer activities. These might include assisting in an education program at a Monument facility or a school, assisting a scientist collecting data, supporting researchers monitoring streams, providing interpretive services at a visitor center, and much more. In 2013 Volcano Naturalists contributed 4,005 hours engaging and educating the public at visitor centers, outreach events, on the trails of Mount St. Helens and in the surrounding Gifford Pinchot National Forest.
PROGRAM DETAILS
The Volcano Naturalist program is a 13-week course that includes four days in the field. Classes meet from February through May each Wednesday from 6pm – 9pm, in three locations: Vancouver, Centrailia and Morton. Field days are held in several locations throughout the Monument. Travel time to locations varies and could be up to two hours; carpooling is strongly encouraged. Cost of the course is $225, which covers course materials and instruction by top regional experts in their field. Washington teachers may earn up to 54 clock hours by participating in the Volcano Naturalist program.
Now accepting applications through January 30th. Participants will be notified of acceptance into the program by February 2nd and payment is due upon acceptance.
Classes begin February 11th through May 13th.
For more detailed information or to ask any questions you may have, please contact Allison Watson, Volunteer Programs Manager: awatson@mshinstitute.org or (360) 449-7826.