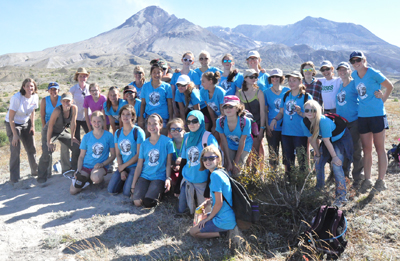 GeoGirls
GeoGirls is a geology and technology field camp for middle school girls at Mount St. Helens. GeoGirls explore the volcanoes in their backyard, the hazards they pose to human population and the technology scientists use to monitor them.
This program is a collaborative effort between the Mount St. Helens Institute and the U.S. Geological Survey – Cascades Volcano Observatory along with partners from UNAVCO, University of Washington, Oregon State University, and Washington State Department of Natural Resources.  Click on the links below to learn more.
GeoGirls 2016

 

Previ

ous GeoGirls

 
---
GeoGirls 2016
When: August 7-11, 2016 (5 days, 4 nights)
Who: Girls graduating from 7th and 8th grade from Washington or Oregon
Cost: Free
Questions: Contact learn@mshinstitute.org
Location & Facilities
Drop-off location is at

Cascades Volcano Observatory

in Vancouver, WA.

Mount St. Helens Institute Ridge Camp is a rustic camp on the northeast side of the volcano near Cascade Peaks Information Station with canvas walled tents, wood stoves and excellent cooking facilities (health department certified).

Th

e Science and Learning Center at Coldwater

is a re-purposed visitor center that GeoGirls will have all to themselves which includes a commercial kitchen and excellent views of the volcano. The Science and Learning Center is located 43 miles east of Castle Rock, WA.
---
GeoGirl Application Process
Applications will open on March 23, 2016 and will be accepted until April 20, 2016 at 5:00 pm. The application consists of applicant and parent information and a few short essays. 
The GeoGirl applicant will also need one of her teachers to fill out the GeoGirl Teacher Recommendation form.  The application review panel will select 20 applicants based on each girl's interest in geology, propensity in science and social and/or financial need. Girls will be selected to develop a diverse team, reflective of the community. Selections will be made by May 4th, 2016. 
Click here to apply to be a GeoGirl.
---
For Teachers
---
High School Mentors
What is a high school mentor?
Four high school mentors will be selected to participate and assist with the GeoGirls. High school mentors will 1) join study teams to assist with technology, keeping track of equipment and ensure data is properly managed, 2) participate in activities but as a student leader and 3) assist with all aspects of managing camp.
Who can apply to be a high school mentor?
High school girls graduating from 10th, 11th, or 12th grade with a passion for science and leadership from Washington or Oregon may apply.
How do I apply to be a high school mentor?
Please complete the application, including asking a teacher to complete the Teacher Recommendation Form.
High School Mentor applications open on March 23, 2016 and will be accepted until April 20, 2016 at 5:00 pm.
Click here to apply to be a High School Mentor.
---
Interested in volunteering?
If you have a background in the geosciences and/or are a graduate student interested in volunteering with the 2016 GeoGirls camp contact Kate at kallstadt@usgs.gov with information about your background and your interest in the program. Volunteers must complete a background check.
---