Into the Crater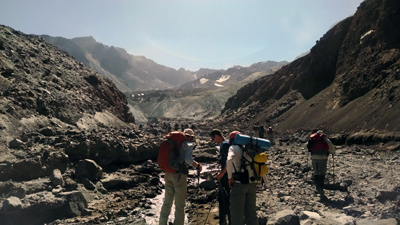 INTO THE CRATER HIKES
This is a bucket list adventure that few receive the opportunity to experience – a hike into the crater! With a professional geologist to explain the creation of the Domes and canyons, pumice fields and lava beds, we will travel across the Pumice Plain to the Goat Rocks Fan and then high up into the crater breach and to the snout of Crater Glacier. This is as close as you can get! Plus, there are astounding views of Mt. Rainier, Mt. Adams and Spirit Lake!  The trips begins Friday at the Mount St. Helens Ridge camp where we will treat you to an amazing dinner by the camp fire, followed by a fireside lecture by the geologist. Guests are welcome to stay Saturday evening as well for dinner and another nights rest in the shadow of the volcano.
---
Hike Details

Hike Description: This hike into the crater begins the night before we hit the trail at our Ridge Camp where we will serve you dinner, enjoy the campfire, and talk about the history and geology of the mountain. After a good night's rest, we will have an early morning wake up and breakfast at 5:00 a.m. We will depart camp at 6:00 and drive a short distance to the trailhead. The hike begins on trail, as we descend from Windy Ridge and cross the Pumice Plain. We will depart the Loowit Trail and continue off trail as we travel up toward the crater breach. At stops along the route you will hear about the geology and ecology of this amazing landscape. We will also cross two unbridged and dynamic streams. At the crater breach, we will discuss Crater Glacier and other fascinating facts about Mount St. Helens unique landscape. We will then loop back to the trailhead via a different route. The ascent and descent involve navigating relatively step and loose grades therefor, this hike is not for the faint of heart but is well worth the immense views. We expect to be back to the trailhead no later than 5:00 pm. When we return to camp, we will make dinner and you are invited to spend the night again. We will have a campfire and relax after our hike that night and have breakfast in the morning.

Difficulty: Non-technical but strenuous off-trail hike

For more information:

MSHI Guided Programs Difficulty Rating Guide

MSHI Guided Programs Fitness Test

Length: 12 miles round-trip

Elevation gain: 3000 ft

Duration: Approximately 10-12 hours

Pace: ~1-2 miles/hour with breaks

Upcoming Into the Crater Hikes

To view the full selection of our 2016 Into the Crater Hikes and to REGISTER, click here.

Or click on the event listings below to learn more and to register for an Into the Crater Hike.